Hello Lovely, Welcome to Erin's Creative School.
I teach techniques in watercolour, acrylic and mixed media painting. Here, you will also find tools for exploring your creative process and caring for yourself as an artist.
It's never just about the art! We all have our own story to tell, challenges to overcome and our own creative genius to express.
Your skills, your abilities, your taste, everything can improve with time but nothing replaces respecting your talents as they are right now. You've just got to get the paint on the canvas and get going! 
What my previous students have said...
" I am giddy and inspired!"
Erin's style speaks to me and every time she shares her techniques I am giddy and inspired. Every time. Seeing her work pushes me to do better and stretch my own creativity. I'm so grateful to her for sharing her gifts. Loved this class and will come back to it again and again.
Susanne Wright


"The best I've painted before!"
I love this course so much I might do it again. It's wonderful and by far, as a beginner, the best I've painted and sketched before.
Naomi Hills
"A new way to use watercolour that has been endlessly helpful."
Great class! This gave me a new way to think of contouring with watercolour and has been endlessly helpful for me. I already used this technique in a portrait and it looks way better than I even thought it could. The instructor is very specific which was a fantastic help to me.
Jenna Rose
"Great for experienced and newbie watercolourists alike!"
I love everything about this class! Erin is an amazing instructor, explaining each and every step. Great for experienced and newbie watercolorists alike. I especially appreciated Erin's approach to drawing the eyes. Thank you for sharing your process, I sincerely hope you'll offer more classes!
JAC


"I'm so impressed with this course !"
Erin is very knowledgeable instructor and has really studied her subject. I am so impressed with this course! Well done! Thank you for sharing your knowledge.
Lisa Adams
Erin is an artist, illustrator, teacher, mother, hiker and lover of the colour green. Seriously, green on green is kinda her thing.
Back in the day she trained and worked in film production, however, having kids led her back to her true love, PAINTING and WRITING. All those crayons and crafts re-ignited the fire!
She started a Youtube channel where she shared her painting process to four thousand subscribers. She became a Skillshare teacher where her Whimsical Faces class was taken by over five hundred students and garnered excellent reviews.
Erin is a commercial illustrator and works with designers to create artwork for a variety of small businesses and brands. Recently she was published in Issue 52 of UPPERCASE magazine.
Writing her BLOG is one of her favourite things to do. She knows it's so mid-2000s but Blogs are the best! She writes about about her creative processes, productivity, running a creative business, family life, spirituality and journey through Breast Cancer.
Erin currently lives in Far North Queensland with her amazing husband, two marvellous daughters, a wolf dog and a rascally cat.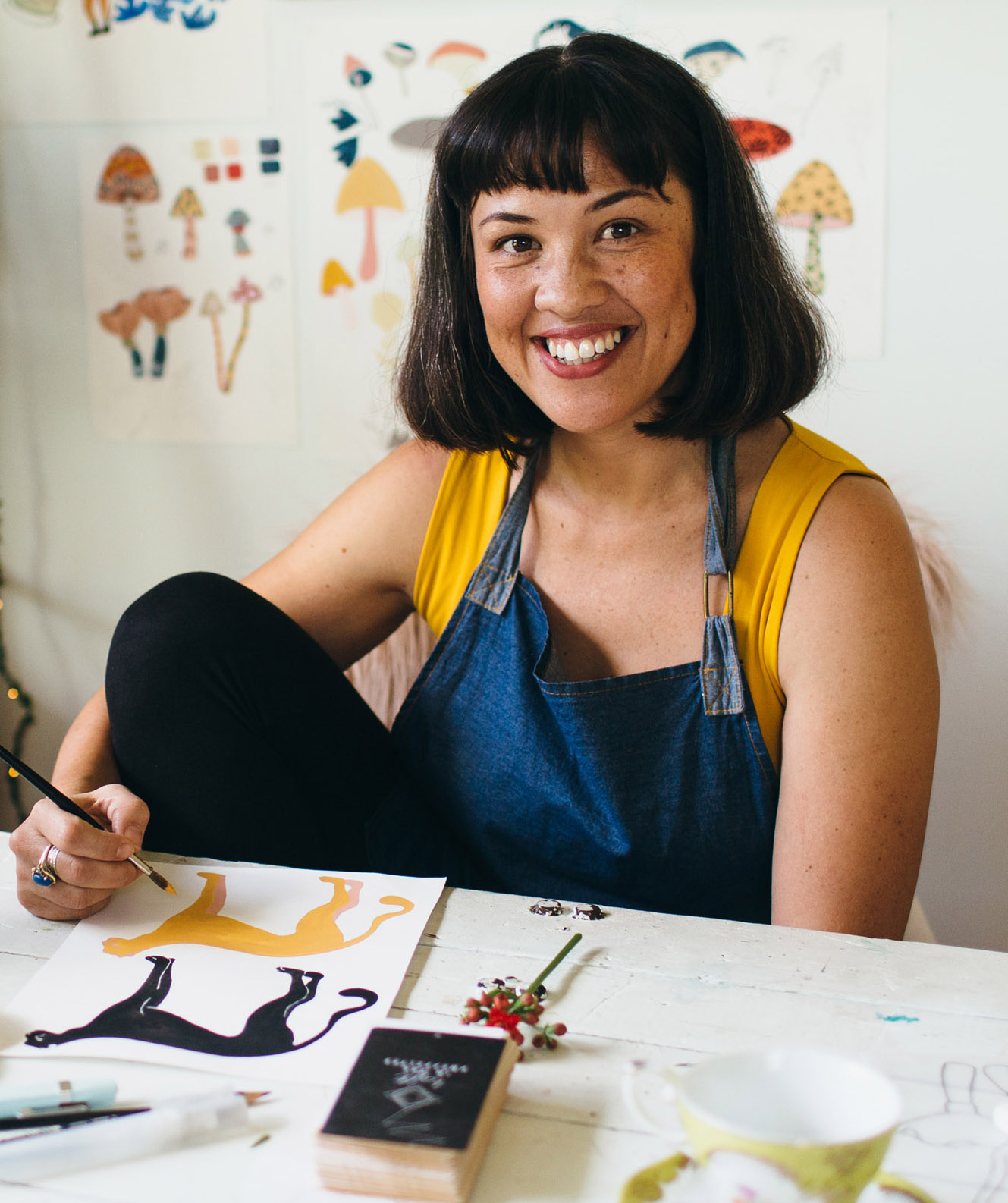 Check your inbox to confirm your subscription